I own a "cheap-o-dongle-microtune" usb of course who look like that: (but with rubber tape around)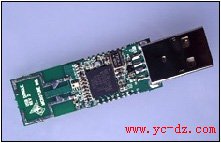 And a Nokia with the bluetooth feature.
First, plug the dongle…. easy and os-independant.
Add/remove > Bluetooth File Sharing or sudo apt-get install gnome-bluetooth obexserver bluez-utils bluez-passkey-gnome

And, OOOoooo, left clic to any file, send:
It's working, with a nice GUI.
I've some troubles to send multiples files, so, I made this send-bluetooth.gz, extract to the ~/.gnome2/nautilus-script/ folder (left-click menu).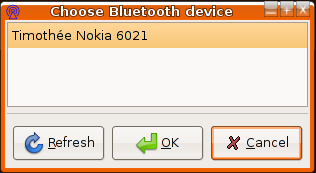 Now you can use your cellphone as a storage device.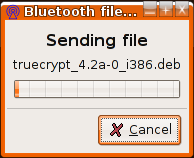 And even download new wallpapers.
If you encounter strange problems, here is a complete How-to.
Once again, Ubuntu / Linu Rocks, since for the same dongle, used with Windows Xp, need some illegal/cracked Widecom/Microtune drivers.
(you can check once plugged, that it is detected with $ lsusb and you should have a line like:
Bus 001 Device 006: ID 0f4d:1000 Microtune, Inc. Bluetooth Dongle
I already imagine yours complains:"Yea but it's only a one-way connectivity"
Actualy, no:
Send via bluetooth any file from your phone to your pc, and, a nice screen appear:
Here we go, enjoy.